Home of the highwayman
The Highwayman Inn is like the Tardis. Step in through the old stage coach and enjoy a very surreal experience!
Quoted as being 'the most unusual pub in Britain,' The Highwayman Inn sits surrounded by the luscious and mysterious countryside that is Dartmoor National Park.
An Aladdin's cave of eclectic artifacts and curios, an interesting and celebrated clientele (including a resident ghost),
combine to make The Highwayman Inn truly something special.
Recently Featured in Devon Live click here to read the article
We currently cannot accommodate coaches or mini buses and we can only cater for groups of no more than 8 people.
Vegan Xmas menu now available for Xmas Day and Boxing Day.




"The inn will be closing after Sunday lunchtime the 5th of November and reopening on the morning of Sunday the 12th."
Opening Hours
Thursday, Friday and Saturday 12 till 3 and 6 till 9 and on Sundays 12 till 3.
Xmas & New Year Opening Hours
We will be open for Xmas and New Year as usual 12 till 3 and 6 till 9 on Thursday, Friday and Saturday and 12 till 3 on Sunday.  On Xmas Day and Boxing Day we are open for our vegan Xmas lunches from 12 till 4.  (Booking is essential please for these).  On Wednesday the 27th we will be closed, but open again Thursday to Sunday and on New Year's Day from 12 till 3.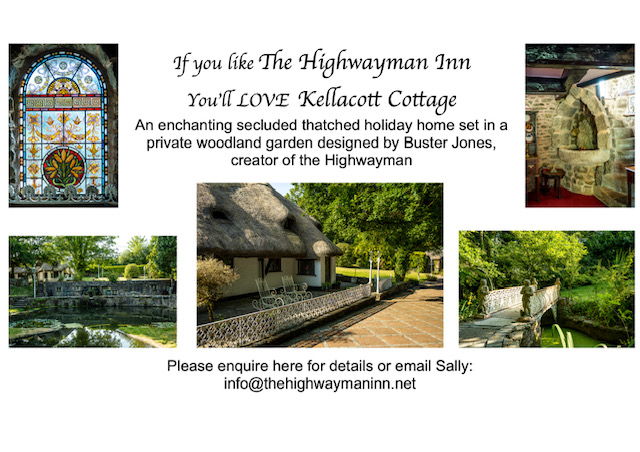 Price for a week stay at romantic Kellacott Cottage, which sleeps one or two couples and is near both Roadford Reservoir and the quaint town of Launceston is £750 and a 4 night stay is £500. Contact Sally for more details here: info@thehighwaymaninn.net Sadly no pets or children in this property but COBWEB HALL below is available through Booking.com. It also sleeps up to 2 couples and is another of Buster Jones's unique creations. It just happens to be opposite the Highwayman and does accepts children and pets and is situated on Dartmoor.
Cobweb Hall
This picturesque and beautiful cottage is across the road from the inn, and created by the same man. So it has a surreal and gothic ambiance too. Situated literally on the edge of Dartmoor and the village green, it provides two double romantic four poster bedrooms each reached by its own sweeping spiral staircase and both have
romantic Victorian slipper baths.
There is an open plan, spacious, touch of the baronial, dining area, a comfortable living room and adjacent
fully equipped galley kitchen.
There is a pretty garden at the rear with lovely views of Dartmoor. A great location for walking on the moor, cycling on the granite way or simply relaxing. Behind Cobweb Hall you will find one of Devon's prettiest little churches, a labyrinth and further into the moor an unusual stone circle and a sacred pool.
Minimum stay is 3 nights. The cottage sleeps a maximum of two couples. Small to medium dogs welcome. Cobweb Cottage is only available through Booking.com.
History to the Name
The Highwayman Inn is family run inn and offers a unique drinking and eating experience for
local visitors and those from further afield.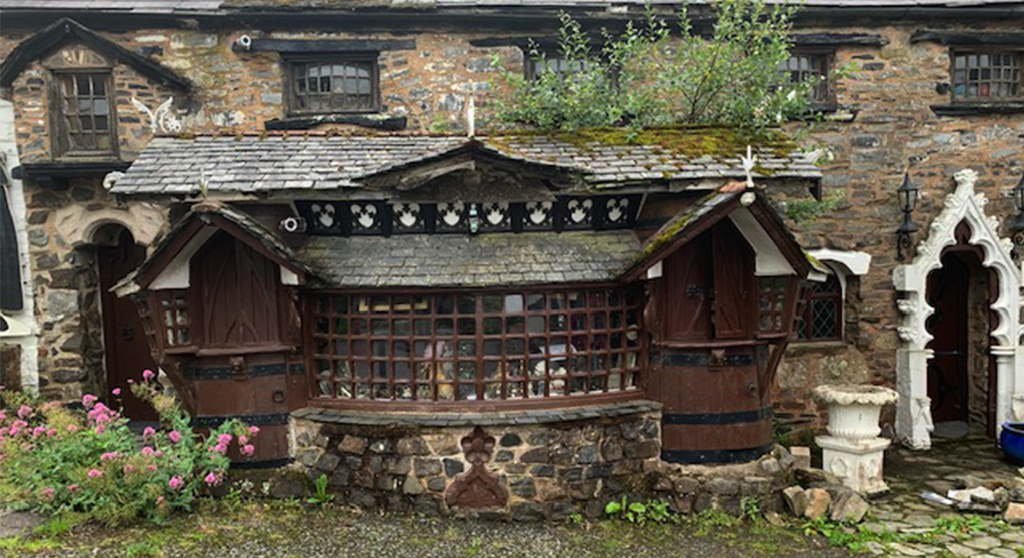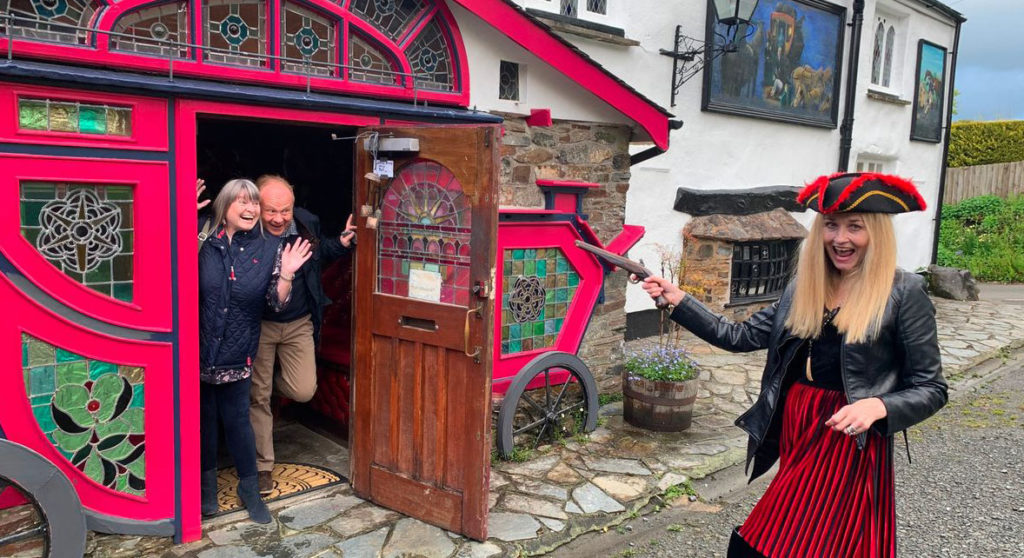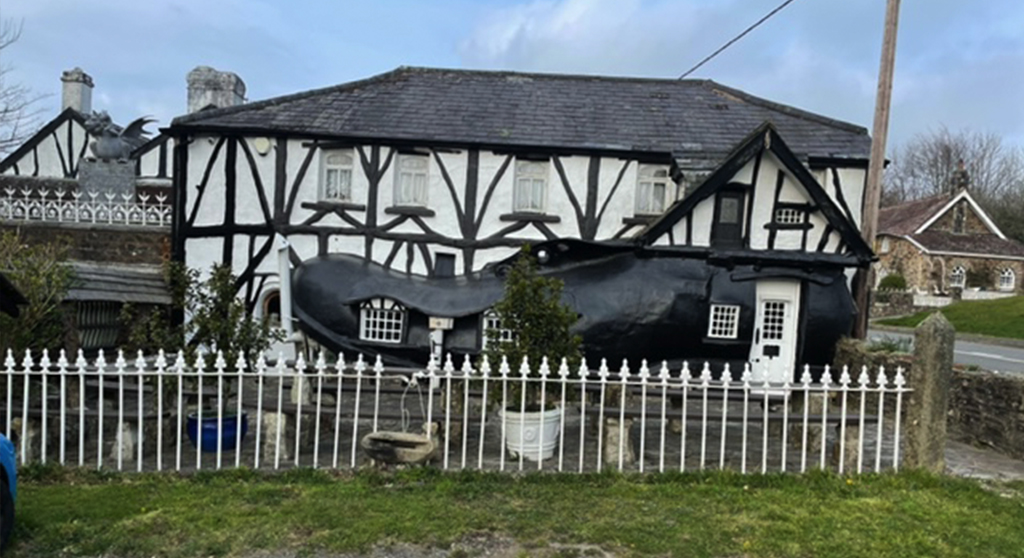 "A mural on the outside of the pub shows customers why the pub has its name. The Highwayman Inn is named after the road bandits often found in England 250 years ago. They would often stop carriages and demand money and jewels were handed over"
– Article from Daily Mail
True Highwayman Facts
Tom Soby used to work for the Dartmoor National Park and is considered an expert on Dartmoor past and present

Offering Vegan Menus
Many families have members who are pescatarian, vegetarian, vegan and meatarian. Our aim is simply to raise vegan awareness and welcome everyone at the Highwayman no matter what they choose to eat on our menu. Sally is a vegan.
Wowing Our Guests
We hope hope to schedule intimate music events in the future.
See Events page for more details. We are sympathetic to a wide range of belief systems and can cater for Pagan, Humanist and Alternative ceremonies.
Camper vans are welcome on the days we are open, parking is free if a meal is purchased and please phone or email ahead of time to secure a parking spot as spaces are limited and please book a table.
Look forward to seeing you.